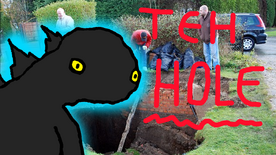 Teh Hole is the first episode of the animated series called Gawdzila, the series is created by MosuFan2004.
Plot
Gawdzila: "helo am gawdzila, an' tudai, am guna explowr teh strange howl in ma bakyerd". He grabbed ladders and a flashligh and said "so letz go". 3 guys were staring in the hole, Gawdzila just placed the ladders and went in the hole. He found 2 passages and said "holi fuk der r 2 pasages, il go in teh rite 1 cuz teh 1 un teh left iz not on da rite" and went to the passage on the left. Gawdzila found a random guy who was just standing in the tunnel. Gawdzila said "holi sheet ur ugli as f" and then burned him with his awtamik bweth, the guy's wallet came out of him pocket, Gawdzila saw the wallet and said "aw ma gawd he drawped his walet", he grabbed the wallet and found 5 dollars in it and said "it haz 5 dolurs, yey". He came back to the white background like on the beggining of the episode. He was wearing a $ necklace, sunglasses and a cap, and holding 5 dollars. He said "so if dis vidio waz disapontin' to u an' if u vant 2 bekom rich liek meh, liek dis vidio an' subskrib, alzo, vizit teh fmk wiki".
Appearences
Monsters
Other
The Ugly Guy from the Hole
3 Random Guys Staring in the Hole
The Episode

Kaiju

MF4

Gawdzila

Pepezilla

Bob

P-rex

Dubsteparian

Spartaler

Remixite

Jeff-saurus

Jack

Beagler

Squido

Venury

V-166-B0T

Lazurd

4kLift

Bill the Cat

Illusyan

Virus Aim

Flying Spaghetti Monster

Salt Turtle

W.F.E.

Ratzilla

Serbian Eagle

Andy Cucumberbot

XP-siuz

Toxix

Nuxlear

Y-tivarg

Junky

Bootleg Spartaler

Firegg

HummingSoviet

Bootleg Jeff-saurus

Abomination Rex

Dolan Trumpamelon

Pterobama

Turzard

Needideaz

Alien Nutshell
Sarwem
Lawyertopus
Planets, Dwarf Planets and Countries
Planet Toilet • Jupiter • CD-Planet • Antarktika • Mars • Eris • Slavic Union
Teams
M.V.P
Stories
Gawdzila • Stuck on Antarktika • The Return of Jack • Eris, The Ultimate Dwarf Planet
Other Pages
The MosuVerse Timeline • The MosuVerse Gallery