Geharha is a kaiju that first appeared in the 2009 movie
Geharha: The Dark and Long-Haired Monster
. The movie serves as a parody to Showa kaiju era.
Abilities
History
A person was attacked by Geharha, that guy survived, but people found him completely bald. Then Geharha moves to the city, and military attacked him, but they could not defeat him because tank shells can't go trough his hair. Then geharha used his smell abilities and he smelled so bad that he knocked few people out, Then military could not defeat him, so they created a giant fan. The military proceeds to defeat Geharha. During a post-credits scene, a UFO revives Geharha, and attacks again.
Appearance
Gallery
Geharha: The Dark and Long-Haired Monster Trailer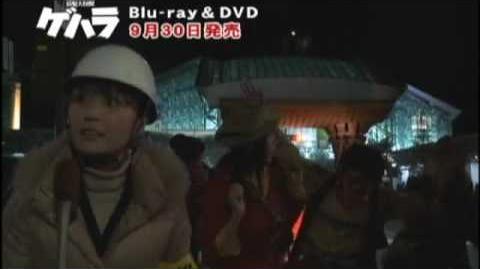 External Links
Ad blocker interference detected!
Wikia is a free-to-use site that makes money from advertising. We have a modified experience for viewers using ad blockers

Wikia is not accessible if you've made further modifications. Remove the custom ad blocker rule(s) and the page will load as expected.