Titanosaurus clone is a clone of Titanosaurus made by unnamed aliens to help Mecha Mechagodzilla in combat.
Appearance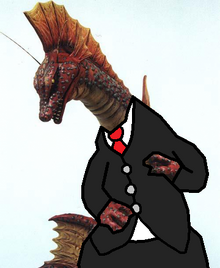 As a clone, he looks exactly like the normal Titanosaurus, but with a mind control device in his head.
History
Universe 988
Titanosaurus clone, along with Mothra clone, were sent to help Mecha Mechagodzilla against Godzilla and the Mechagodzillas. He was destroyed along with his allies.
Apparently, the Titanosaurus clone was not killed in the aforementioned battle. His mind control device was also destroyed at some point. In episode 5 of the series, the Titanosaurus clone was taken out of its home universe by WeegeeZilla , and became the Council's bartender, followed the resignation of Firegrodon and the death of Bill Cosby. He was unfortunately killed and completely eaten by Lucifer during the tongue louse invasion.
The Council held a funeral for him offscreen and were sad about his death but soon became too busy to grief because of the events of the following episode.
Titanosaurus clone was randomly revived into Universe 986 when the video game T-Rex 2 was released. Greatful for a second chance at life, Titano clone joined up with T-Rex and his friends to defeat Dr. Pingas and Evil T-Rex.
Trivia
The only reason this page exists is because I'm an insane completionist.
Yes, that grey dot is the mind control device.
Despite the Titanosaurus clone being one of my Kaiju, the idea of him being the bartender for the Council of Creators was thought up by Scoobydooman9001. In the episode, it was WeegeeZilla/KoopaGalaxian that found him.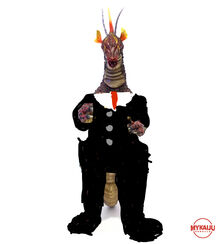 Ad blocker interference detected!
Wikia is a free-to-use site that makes money from advertising. We have a modified experience for viewers using ad blockers

Wikia is not accessible if you've made further modifications. Remove the custom ad blocker rule(s) and the page will load as expected.